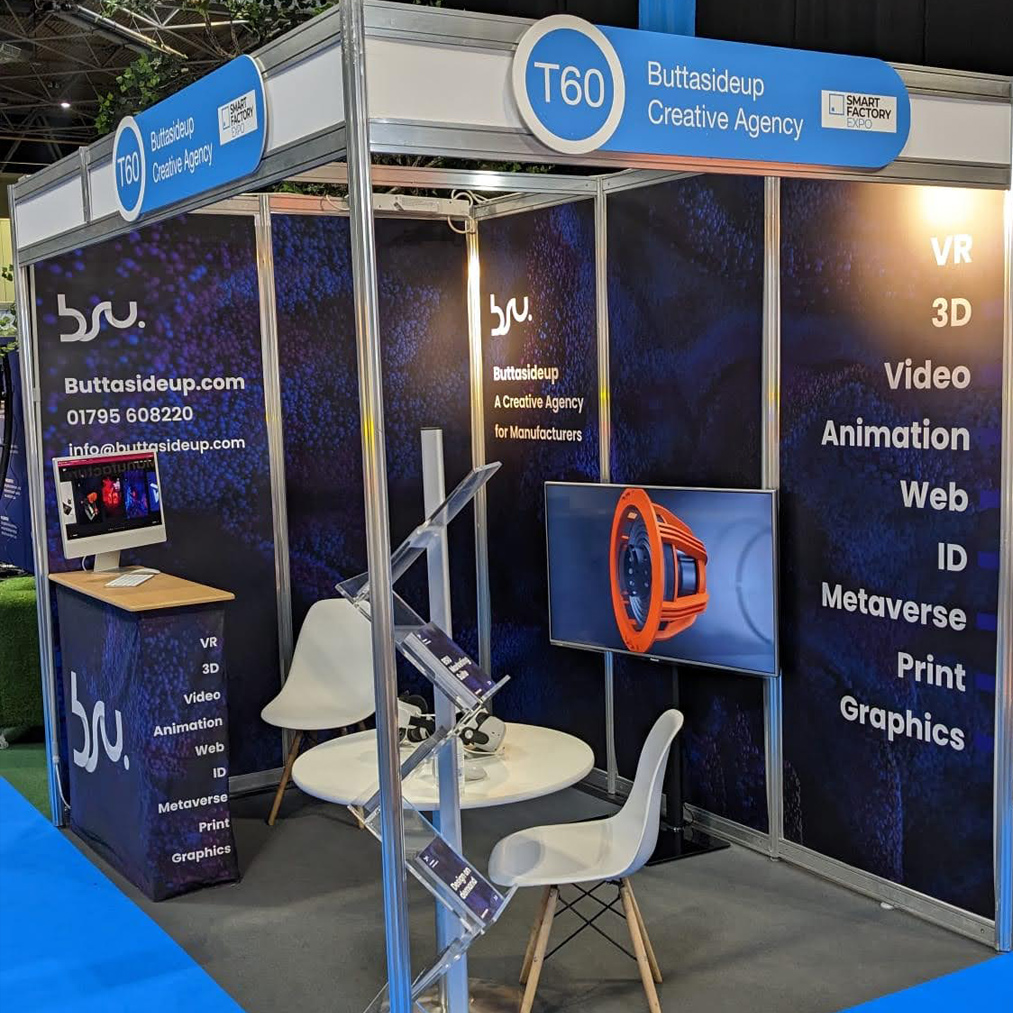 Buttasideup, recently participated in the Manufacturing & Engineering Week held at the NEC in Birmingham. The event, renowned for celebrating excellence and innovation in UK manufacturing and engineering, brought together industry professionals, experts, and enthusiasts for a week-long festival of inspiration, education, and networking.
With a strong focus on the entire product life cycle, from design and engineering to manufacturing and maintenance, Manufacturing & Engineering Week provided Buttasideup with a valuable platform to showcase its creative services tailored specifically for the manufacturing sector. As a trusted partner to numerous manufacturers, Buttasideup has amassed years of experience in assisting clients with their creative needs.
Buttasideup's presence at the event was marked by an interactive exhibition booth that exemplified our commitment to innovative solutions and design excellence. Attendees were treated to a firsthand demonstration of Buttasideup's creative prowess and were given insights into the company's extensive experience in collaborating with manufacturers to enhance their brand image, streamline communication, and drive customer engagement.
Throughout the week, Buttasideup actively engaged with visitors, offering VR demos, sharing success stories, and discussing how their creative expertise can empower manufacturers to stand out in an increasingly competitive market.
By participating in Manufacturing & Engineering Week, Buttasideup reaffirmed its commitment to supporting the UK manufacturing and engineering sector. The event provided a valuable opportunity for the company to connect with existing and potential clients, forge new partnerships, and gain deeper insights into the evolving needs and challenges faced by manufacturers today.
Buttasideup's presence at this renowned trade show further solidifies its position as a go-to creative agency for manufacturers, combining years of experience with a deep understanding of the industry's unique requirements. As the company continues to innovate and expand its offerings, Buttasideup remains dedicated to empowering manufacturers with compelling visual solutions that captivate audiences and drive business growth.
Click here to see our Instagram Reel Video of the event.